Hocking Hills Best Wedding Locations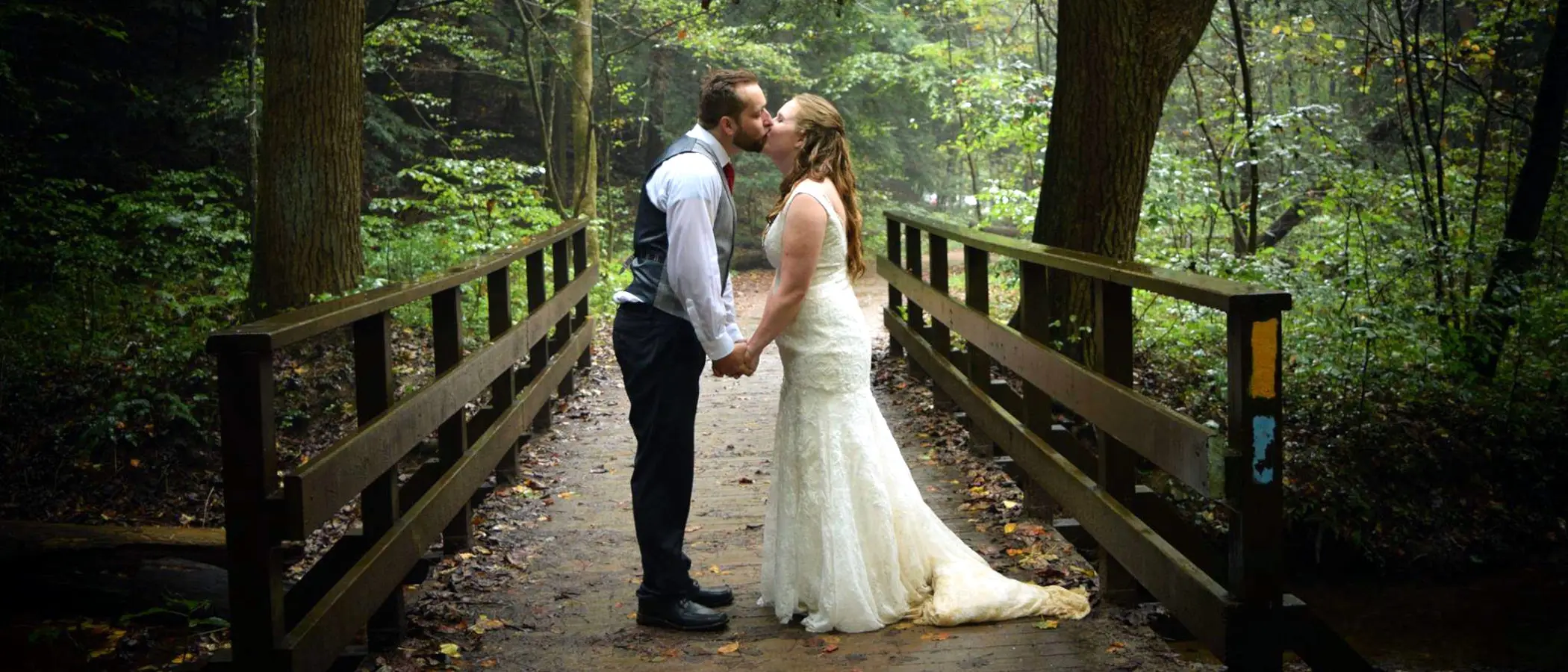 Hocking Hills State Park will open wedding permit applications starting June 1st, 2021. To have a wedding at a Hocking Hills park (Old Man's Cave, Ash Cave, etc.) you must get a permit. You can apply for a wedding permit by calling the park at 740-385-6842 extension 250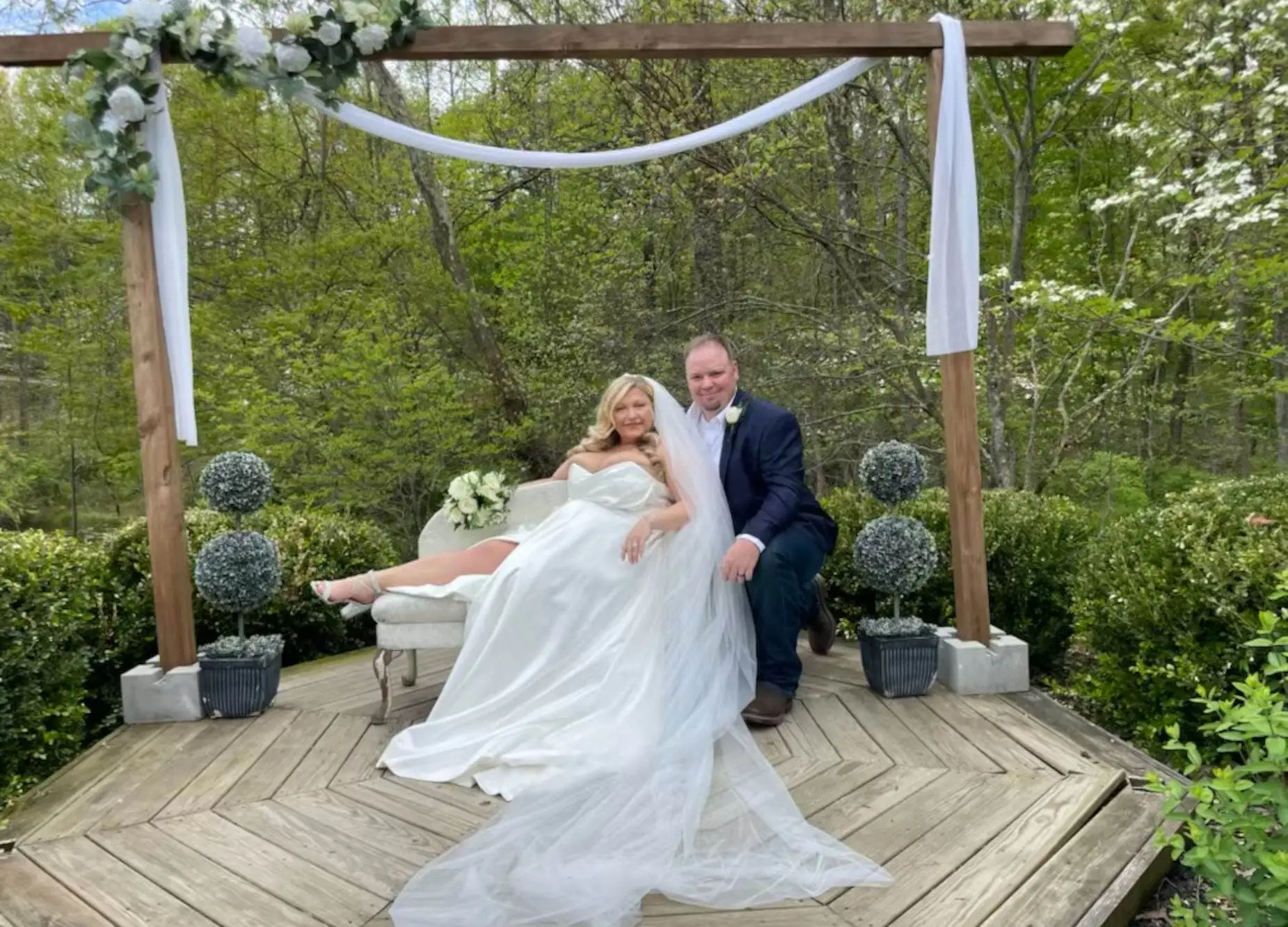 The Gazebo
Our private gazebo is ideal for small weddings. It is located on our property, 14435 Nickel Plate Rd. The gazebo is beside our peaceful ponds and the woods. Lots of great locations for quick photo ops at this location as well. This location also includes 2 cabins which work out nicely for our honeymoon packages. Note: There is limited parking, no more than 6 cars allowed.
Book a maximum of one month in advance, call us at (740) 385-1687 for details.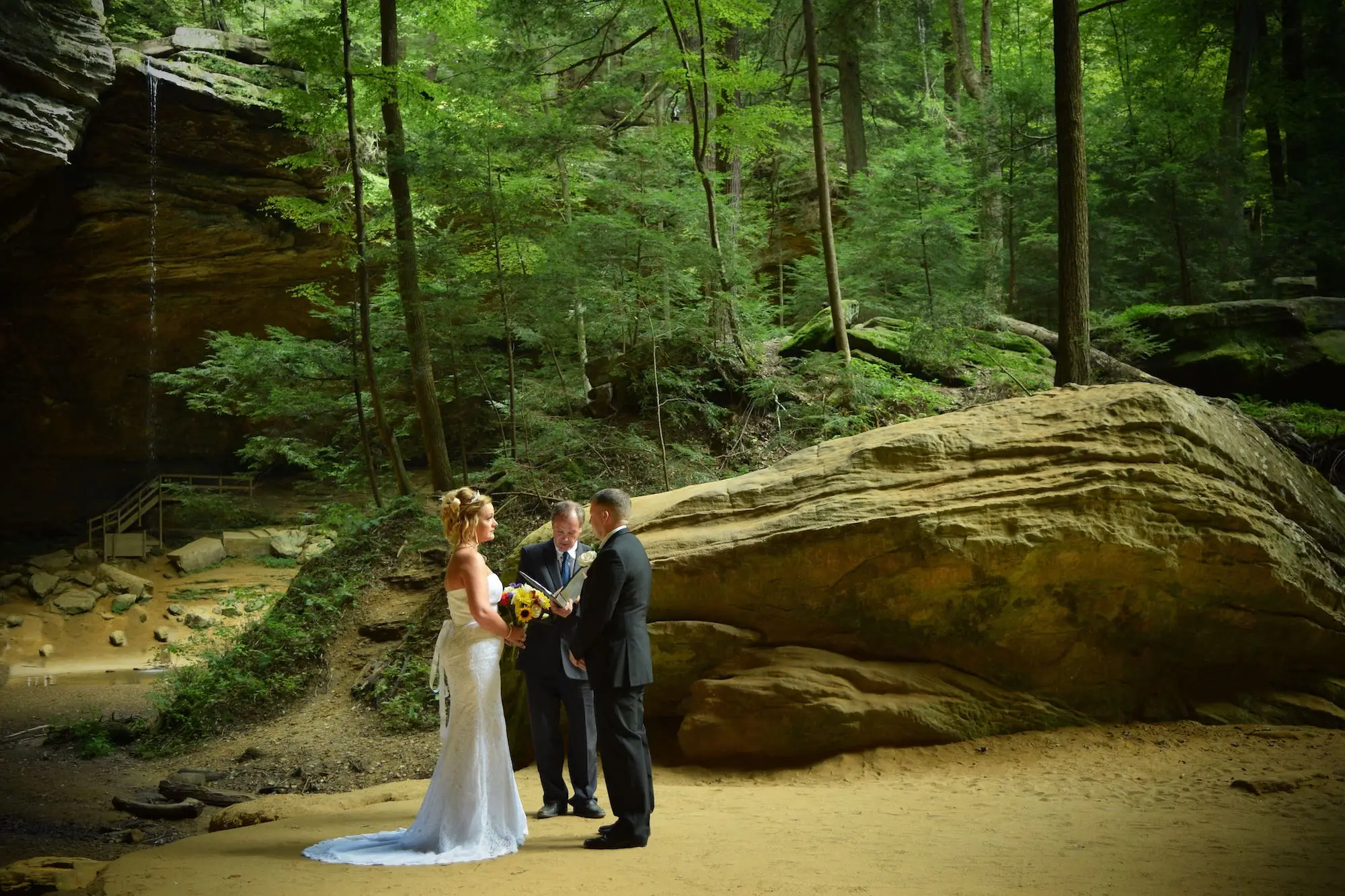 Ash Cave - 1/4 Mile (Wheelchair Accessible)
Ash cave is located on the Southern end of the Hocking Hills park and is one of the more popular elopement locations. Ash Cave holds the record for being the largest and most impressive natural rock recess in the state of Ohio. The cave creates a large 'U' shape around a pool, where water cascades down to from above, and is easily accessible. The cave measures 700 feet from end to end, 100 feet deep from the rear cave wall to its front edge with the rim rising 90 feet tall, creating one of the most beautiful natural chapels on earth.
Book a maximum of one month in advance, call us at (740) 385-1687 for details.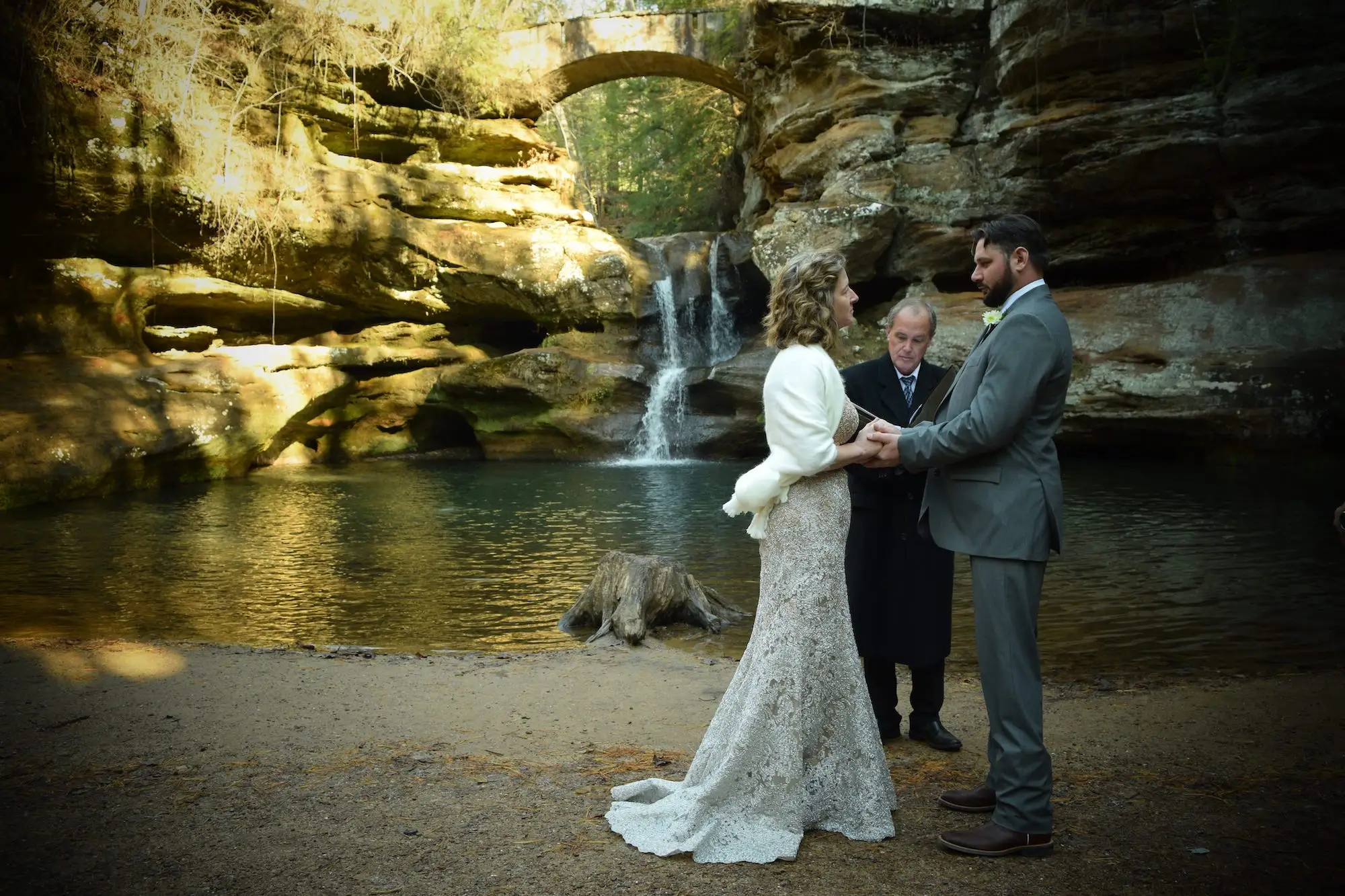 Upper Falls at Old Man's Cave - 1 mile
One of the most popular of all the Hocking Hills hiking areas is Old Man's Cave. The Upper Falls is also located here and is another popular wedding spot. Old Man's Cave derives its name from the hermit Richard Rowe who lived in the large recess cave of the gorge. His family moved to the Ohio River Valley around 1796 from the Cumberland Mountains of Tennessee to establish a trading post. He and his two dogs traveled through Ohio along the Scioto River in search of game and happened upon the Hocking Hills region. He soon called this location 'home' by building staircases and shelters to live out the rest of his days in these caves.
Book a maximum of one month in advance, call us at (740) 385-1687 for details.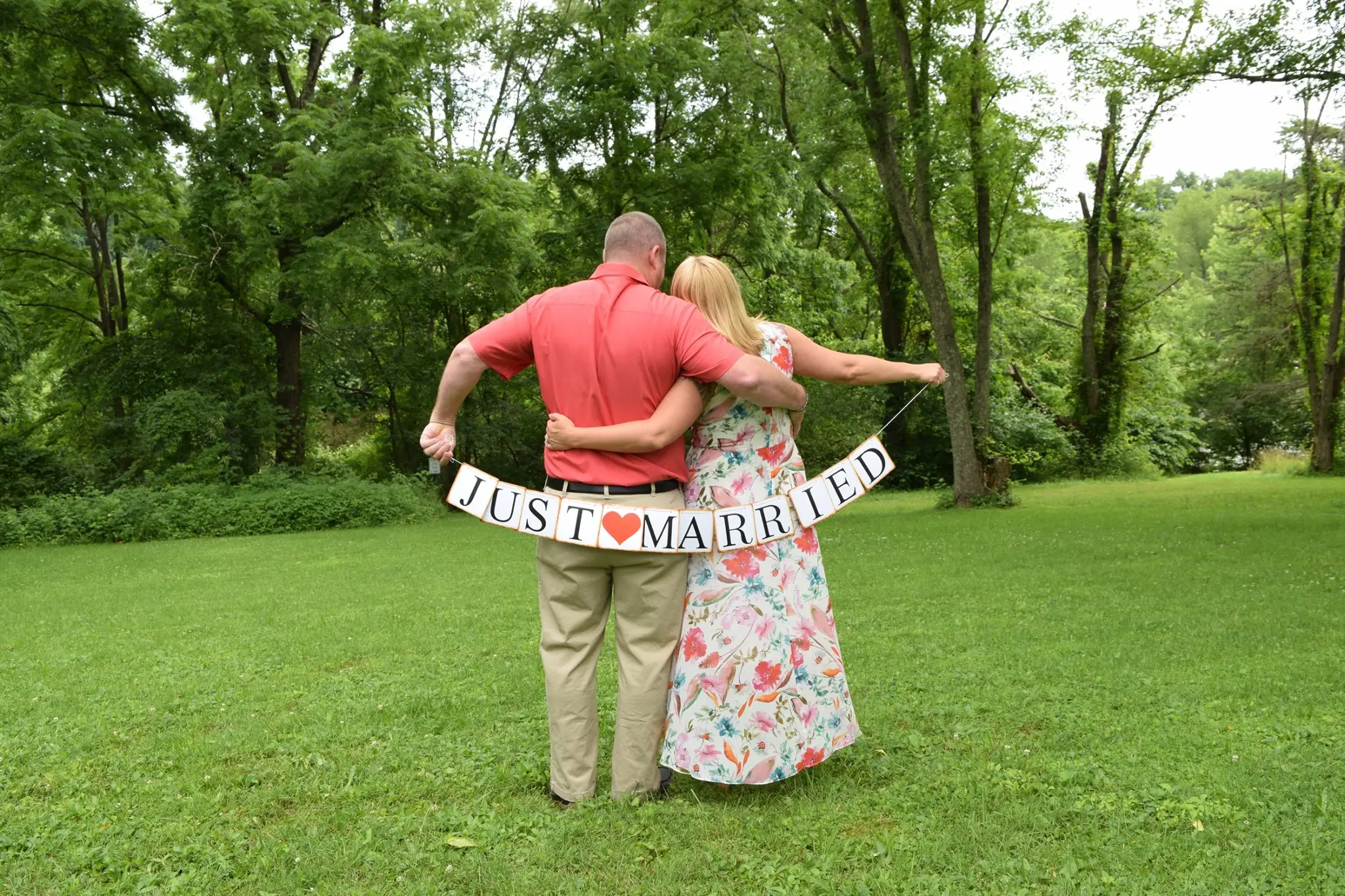 Location Of Your Choosing
We have a number of frequented locations but are willing to bring the wedding to you in any location in the Hocking Hills or surrounding area. We have a number of locations on our property as well including lodges, the pond and our Gazebo! With the owners permission, we are happy to perform your ceremony at larger facilities and cabins as well. Whatever location your heart desires to make that special day all the more amazing, we gaurantee you will never forget the time you said 'I do,' when planning your wedding with The Traveling Chapel.
Book a maximum of one month in advance, call us at (740) 385-1687 for details.
Our Packages
From simple elopements at our private Gazebo to honeymoon packages that include a romantic cabin getaway.
View Packages
Photo Gallery
Curious what a Traveling Chapel wedding is like? View a collection of these special moments in our photo gallery.
View Photo Gallery
Testimonials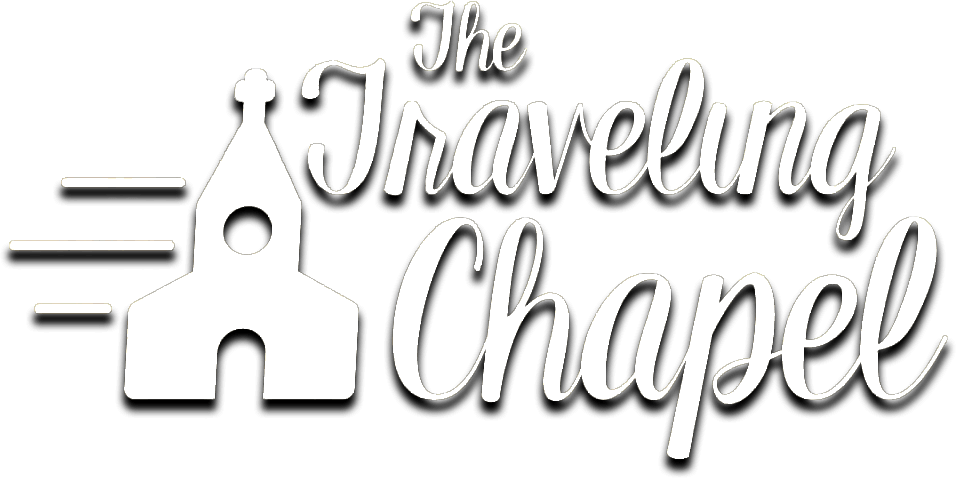 The Traveling Chapel
+1 740-385-1687
14435 Nickel Plate Road, Logan, Ohio, 43138, United States
$$$
4.4
out of
5
stars -
24
votes
The cabin was so cute, and our stay was so relaxing. We loved it. They made our wedding so painless it was great!

Lisa and Derrick are so great. They were so sweet and helpful on our big day. Highly recommend them!

Derek & Lisa made our special day the most memorable by being so accommodating and kind. They truly are wonderful people to work with for special occasions.

We had a great experience with The Traveling Chapel. Derek and Lisa were professional and great to work with. The cabin we stayed at was immaculate. I highly recommend them.

Absolutely amazing! 10 out of 10! Super nice and caring. It was raining and muddy outisde and she allowed us to use her home. Amazing pictures and extremely attentive. Beautiful cabin. Flowers were excellent as well. Honestly the best.
More Reviews